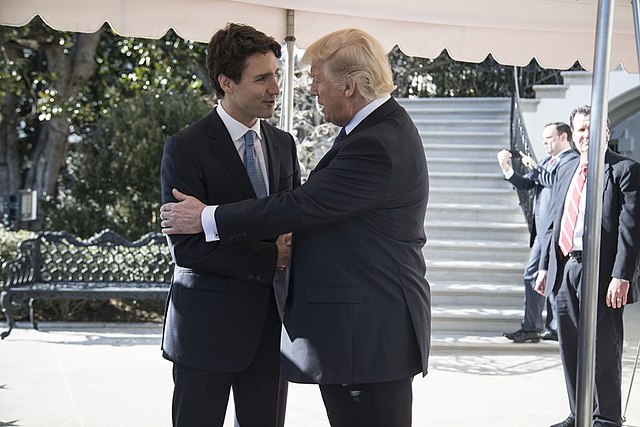 Canada and the United States were set to go down to the wire Friday to reach a deal overhauling the North American Free Trade Agreement.
After talks that continued late into the night on Thursday Canada's Foreign Minister Chrystia Freeland told reporters: "No we don't have a deal."
However, she said, "discussions continue tomorrow."
Earlier she told reporters the sides were "making progress," and had "covered a lot of ground."
Freeland held four meetings Thursday with US Trade Representative Robert Lighthizer to try to bridge differences to preserve the three-nation trade pact with the US and Mexico.
The White House plans to notify Congress on Friday of its intention to enter into a new free trade agreement, to provide the required 90 days' notice that would allow NAFTA 2.0 to be signed by December 1, when Mexico's new president will take office.
President Donald Trump has threatened to leave Canada on the sidelines since announcing a breakthrough with Mexico on Monday, but he and Canadian Prime Minister Justin Trudeau both have expressed optimism a deal is close.
"We are replacing NAFTA with a beautiful, brand new US-Mexico trade deal," Trump told a crowd in Evansville, Indiana Thursday night.
On Canada, he said: "I think it is going to happen and we really have developed a really good relationship. But they have to treat us fairly. They haven't treated us fairly."
- Crucial phase begins -
The crucial phase of the US-Canada talks began Tuesday, after Mexican officials spent five weeks shuttling to Washington to work out key issues on auto trade and worker rights.
Officials will need to find compromises on issues that have created friction between the neighboring countries, notably Canada's dairy trade rules and mechanisms to settle disputes and intellectual property protections.
Freeland has declined to comment on the specific issues being discussed, saying officials had agreed "we are not going to conduct our negotiation in public."
Negotiators have worked for a year to update and rewrite the 25-year-old free trade pact, but have rushed in the past six weeks to get it across the goal line.
If the White House notifies Congress by Friday, it will then have until September 30 to submit the final NAFTA agreement, but the sides will have to have the major points ironed out.
Ottawa and Washington seem upbeat about the chances of reaching a deal, but Trump is due to leave Washington just after midday on Friday for an event in North Carolina, which may add to the time pressures if the US president wants to be the one to announce any agreement.
The sticking points between Ottawa and Washington center on Canada's managed dairy market -- something Trump has criticized frequently -- and how to handle some disputes among NAFTA partners, as well as patent protections for medicines.
- 'Not good enough' -
Trudeau has vowed not to give in to Washington's demands to alter the system under which Ottawa sets dairy production quotas and prices, with steep tariffs on imports.
But Ottawa could offer US dairy farmers a small increase in market share as it did with the EU in a free trade pact last year, in exchange for US concessions on the NAFTA chapter on dispute resolution.
While the United States appeared to be moving towards a deal with Canada and Mexico, Trump turned up the heat on the European Union and the World Trade Organisation.
Trump rejected an EU offer to eliminate car tariffs if the United States does the same.
The proposal was "not good enough", he said in an interview with Bloomberg News on Thursday. "Their consumer habits are to buy their cars, not to buy our cars."
European Commission chief Jean-Claude Juncker warned Friday the EU would hit back with tariffs of its own if Donald Trump made good on threats to slap duties on foreign cars.
Trump also threatened to pull the United States out of the World Trade Organization, which he has previously criticized for being unfavorable to Washington in its resolution of trade disputes.
"If they don't shape up, I would withdraw from the WTO," he told Bloomberg News.afp