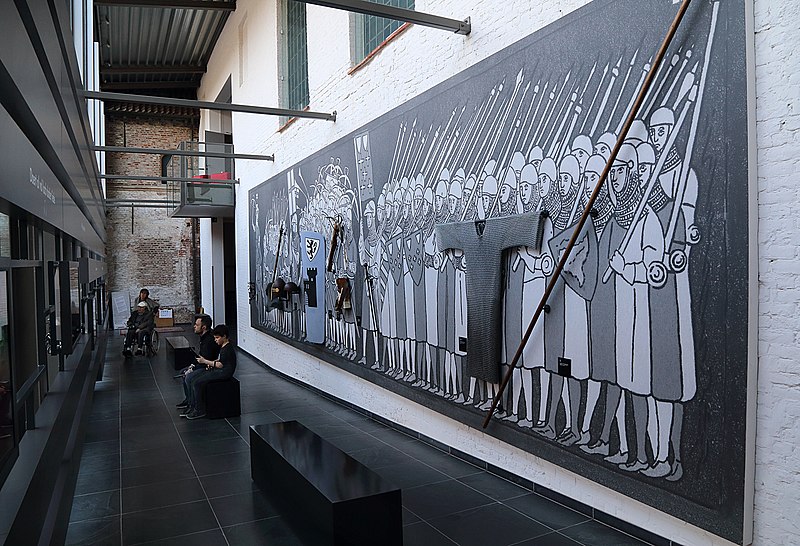 The Kortrijk 1302 multimedia museum has been nominated for the prestigious Museums+Heritage Award. In the category of Best Use of Multimedia Resources, it is competing with four other
museums, including ones in Spain and India. This museum, which offers an immersive experience of the Battle of the Golden Spurs, has only been open for eight months and is already nominated.
Since last summer, the exhibition "Kortrijk 1302: rebellion, battle, climax" has presented the history of the Battle of the Golden Spurs in the Onze-Lieve-Vrouwe church in Kortrijk. Through sound and light and animations, visitors discover the history of the creation of the County of Flanders and the historic battle that took place on the Groeningekouter in Kortrijk. The centerpiece of the new museum is the authentic Oxford Chest, which is the very first representation of the Battle of the Golden Spurs and dates back to shortly after 1302.
After welcoming 30,000 visitors, the museum can now prepare to receive an award in London, as it has been nominated for the prestigious Museums+Heritage Award. This award recognizes the best examples worldwide of museums, galleries, and heritage attractions. In the "International Digital Experience" category, the museum has a chance of winning the award.
Historic building and volunteers "It's amazing that we've been nominated," explains Rudy Vandeputte of the Kortrijk 1302 museum. "We submitted our application, but as it's a global competition, we didn't expect it. We had to provide a description of our museum and send a lot of visual material. That's how the selection was made."
"We emphasized the digital experience in our application. We also emphasized that the exhibition would take place in the Notre-Dame church, a historic building where religious services are also held. Thirdly, we mentioned that the entire site operates thanks to volunteers. This combination of factors made the nomination possible."
International award The four other nominated museums are located in the Netherlands, Spain, India, and Ireland. "I also took a quick look at the other nominations and I don't think we'll win," admits Rudy Vandeputte. "In Spain, they created a complete collection in 3D and it's really wonderful. But the nomination itself is already a compliment. On May 10th, we will know the verdict." Photo by Jamain, Wikimedia commons.