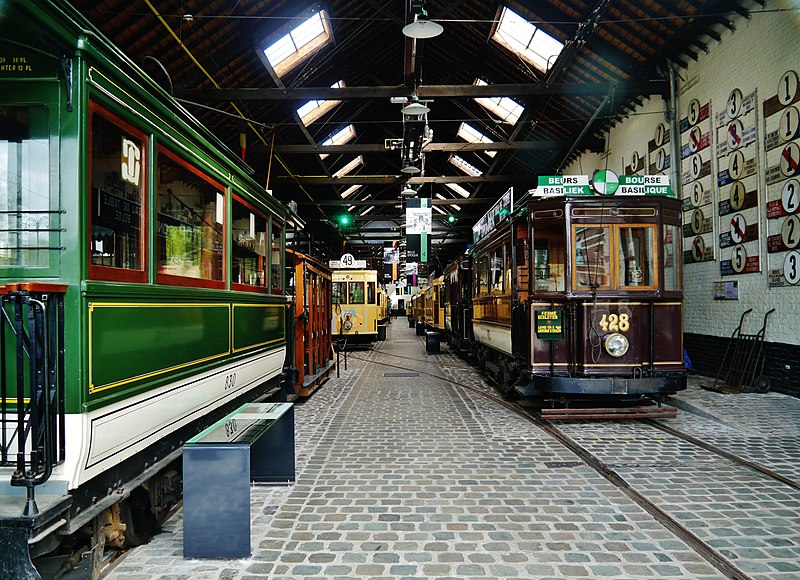 If you are looking for an interesting and inexpensive destination for a family day out during the Easter holidays, the Brussels Urban Transport Museum is a great choice. This museum, run by
volunteers, provides a fascinating insight into the history of public transport in the capital, dating back to 1850.
The museum is housed in two of the three halls of the Woluwe Tram Depot, a listed building that opened at the end of the 19th century to serve the new line between Jubel Park and Tervuren. The line was constructed to link the two sites of the 1897 World Exhibition, and the depot site was expanded considerably in 1907/08. Further expansions over the years meant that by 1952, the Woluwe Depot site had a total surface area of 12,000m².
In 1976, two of the depot's three halls were no longer in use, and it was decided that they should become a transport museum. In 1982, the Brussels public transport company MIVB handed over responsibility for running the museum to a not-for-profit group made up of former staff and transport enthusiasts.
The building that houses the museum is remarkable in itself, with a beautiful wooden beam roof structure that is a sight to behold. In 2001, the Woluwe Tram Depot site, including the two halls that house the museum, was given listed building status. Major renovation work carried out between 2006 and 2009 restored the depot to its former glory.
The museum's collection is one of the most extensive in the world, featuring not only old trams but also buses, taxis, other vehicles, and transport-related objects. Visitors are taken on a journey from the "Belle-Epoque" through the 1958 World Exhibition to the early days of the Brussels Metro in the 1970s.
The volunteers who maintain and restore the historic vehicles do so to a high standard, ensuring that the museum's exhibits are in excellent condition for visitors to enjoy. The Brussels Urban Transport Museum charts the evolution of transport in Brussels from the 1850s, providing a unique perspective on the city's history.
In conclusion, the Brussels Urban Transport Museum is a fascinating destination for anyone interested in the history of public transport or looking for an interesting and inexpensive family day out during the Easter holidays. The museum's extensive collection, housed in a remarkable building, provides a unique perspective on Brussels' past, making it a must-visit destination for locals and tourists alike. Photo by Zairon, Wikimedia commons.