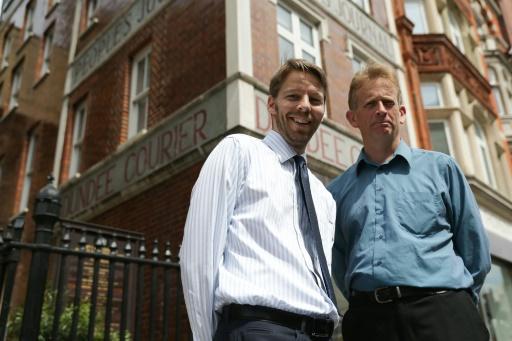 The last two reporters working on Fleet Street filed their final stories on Friday, ending more than 300 years of journalism on the London thoroughfare synonymous with Britain's newspaper industry.
London chief reporter Gavin Sherriff and entertainment features writer Darryl Smith, journalists with Scottish weekly The Sunday Post, are all that remains of the famed institution.
"We knew as journalists that this was an important part of history for our profession, which we love," Smith told AFP.
"There is still that attachment to Fleet Street as a centre of the profession, and we are that final torchbearer."
AFP's departure from Fleet Street in 2009 left the London bureau of Scottish publishers D. C. Thomson as the last remaining newsroom in the industry's spiritual home, now overtaken by investment banks and legal offices.
But the group of 15 reporters that were there seven years ago have dwindled down to Sherriff and Smith, who have accepted redundancy packages.
D. C. Thomson will continue to produce non-news publications from 185 and 186 Fleet Street, with its nationally-protected edifice bearing the names of its newspapers.
The buildings, occupied by D. C. Thomson since the 1880s, certainly have history.
The first authentic English-language versions of The Communist Manifesto were printed at number 185, while Sweeney Todd, "the Demon Barber of Fleet Street", reputedly slit the throats of his customers at number 186.
- 'Street of Shame' -
Sherriff has worked on Fleet Street for 32 years, in a career that has seen him interview notorious killers, give evidence in England's central criminal court, loop the loop in a military jet and fly to Jersey to feed bananas to a gorilla.
Renowned in popular British parlance as the "Street of Shame" for its humiliating exposes, Fleet Street was "a very different place" when he started.
"I do remember coming in as a youngster into an office full of (cigarette) smoke. You could barely see across the room, and it was very noisy with people bashing away at typewriters," the 54-year-old told AFP.
Fleet Street began its association with publishing in 1500 when Wynkyn de Worde built London's first printing press next to Saint Bride's, still known as the "journalists' church" and said to have been the inspiration for tiered wedding cakes.
The street's newspaper history began in 1702 with the Daily Courant, a single page, two-column leaflet.
In Fleet Street's heyday, its legendary pubs and bars heaved all day long with boozy journalists trading gossip and bragging about scoops.
Charles Dickens and Samuel Johnson regularly supped at Ye Olde Cheshire Cheese, rebuilt after the Great Fire of London in 1666.
"The history of the place just seeps out the buildings," said Smith, 43, who started in 1991.
His final duty, "ironically", was drawing up The Sunday Post's memories page, reflecting on historic events that occurred this week through the ages.
"Stupidly, I didn't put me in there," he laughed.
- Lump in the throat -
Both journalists say they are happy with their redundancies and are heading into freelancing.
The Sunday Post specially produced two mock front pages featuring them -- a traditional farewell memento in the industry.
The firm held a drinks party a few weeks ago to mark the turning of the page.
"The amount of people that worked on this street -- great journalists producing great stories -- I'm totally unworthy of being the last," Smith said.
"It's a sadder day for my profession than it is for me personally."
When he shuts down his computer, "I probably won't have a tear in my eye but there'll certainly be a lump in my throat."
"We're at least a footnote in the history of Fleet Street," added Sherriff.
"That last word may be a reader's word because one of my duties is putting contributions from readers onto the page.
"But the way the world of news is, people will read this over the next couple of days and then it will be forgotten about.
"It's the way it should be." afp