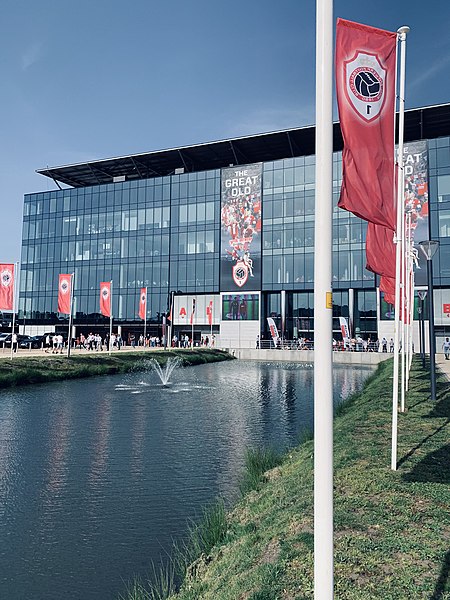 In a remarkable turn of events on the last day of the football season, Royal Antwerp has emerged as the champions of the Pro League after a thrilling late equalizer
against KRC Genk.
The final day of the season was filled with suspense and excitement as all three title contenders, Antwerp, Genk, and Royal Union Saint-Gilloise, took turns topping the league table. As the matches unfolded, Union found themselves in a favorable position, leading against reigning champions Club Brugge, while Antwerp was trailing against Genk, leaving Union within reach of the championship.
However, in a dramatic twist, Club Brugge mounted a remarkable comeback, scoring three late goals to turn the tide in their favor. Meanwhile, in the dying moments of the game, Antwerp's seasoned veteran Toby Alderweireld delivered a sensational 94th-minute equalizer, propelling Antwerp to a stunning victory and snatching the title from the hands of their competitors.
This triumph marks Antwerp's fifth league championship, an extraordinary achievement for the club, especially considering that it is their first title since 1957. Earlier in the season, Antwerp had also secured the Belgian Cup, defeating Mechelen in the final, further adding to their successful campaign.
The roller-coaster ride of emotions on the final day encapsulated the intensity and unpredictability of football. Fans were treated to a spectacle filled with suspense, twists, and last-minute heroics that will be remembered for years to come.
Antwerp's triumph serves as a testament to their resilience, determination, and ability to perform under pressure. The players, coaching staff, and supporters will undoubtedly cherish this historic victory and relish in the glory of being crowned champions of the Pro League.
As the curtains close on this exhilarating season, attention will now shift to future endeavors and the challenges that lie ahead. Antwerp's success will undoubtedly inspire other teams and ignite the passion of football enthusiasts across the nation as they eagerly await the start of the next thrilling chapter in Belgian football. photo by Rafcke, Wikimedia commons.